Alt-Right Charlottesville Killer Senteced to Life In Prison
James Alex Fields Jr. has received his sentencing for the hate crimes and killing he perpetrated at the Unite the Right rally (pictured) in Charlottesville, on Aug. 12th 2017.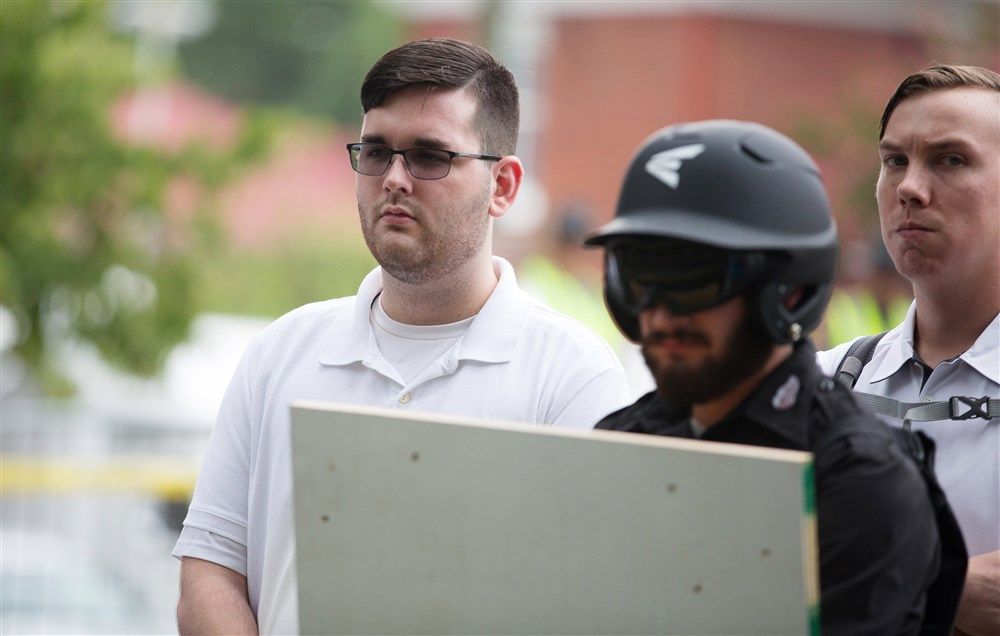 James Alex Fields Jr. who purposely sped his car into a crowd of counter protestors at the Charlottesville white nationalist, neo-Nazi march in August 2017, injuring dozens and killing one, has been sentenced to life in prison.

(Pictured - James Alex Fields Jr. at the Unite the Right rally in Charlottesville, Virginia, on Aug. 12, 2017.Eze Amos / Reuters file)
Pleading guilty in March to 29 out of the 30 hate crimes levied against, Fields was stoic throughout today's sentencing, and did not look speakers in the eye when more than a dozen victims, witnesses, and friends and family spoke in the courtroom. Fields took the plea deal in March in exchange for the death penalty, as a result of the murder he committed, being dropped.
Susan Bro, the mother of Heather Heyer whom Fields killed with his collision, said she wanted Fields to spend the rest of his life in prison, but that she hopes he "can heal someday, and help others to heal".

Rosia Parker who was standing close to Heyer when she was hit, said that he "could have done anything else but what you did" and that "So, yeah, you deserve everything you get".

Prosecutors have said that Fields meant to kill more people with his collision, and that he had a history of anti-Semitic and racist behaviour. They told the court that on a high school trip to a German concentration camp, Fields said to a friend that "This is where the magic happened".

Indeed, prosecutors said they were told through their investigations that Fields was "like a kid at Disney World" during that trip, and that he admired Adolf Hitler, keeping a portrait of him next to his bed.

"Anyone who commits a crime motivated by hatred for the race, color,  religion, national origin or other protected trait of any person should  be on notice: the United States government will use its enormous power  to bring perpetrators to justice, and we will continue to do so for as  long as it takes to rid our nation of these vile and monstrous crimes,"  Assistant Attorney General Eric Dreiband declared in a statement on the case.

Though his defense lawyers wrote to the court asking for a sentence less than life, pleading that the court take into account the hardships in his life of being raised by a paraplegic single mother, and having a Jewish grandfather who murdered his grandmother before taking his own life, the judge concluded the matter with a life sentence. As mentioned, via Fields' plea deal, the Attorney General William Barr directed federal prosecutors to drop the 30th charge, which carried the death penalty.

Fields has also separately and previously been found guilty of several state crimes in relation to his actions at Charlottesville: first-degree murder, five counts of aggravated malicious wounding, three counts of malicious wounding, and one hit and run. Sentencing for these crimes will be on July the 15th, and a jury has already recommended life plus 419 years.

President Trump faced severe backlash when he said there were "good people on both sides" of that rally, certainly aiding and giving comfort & cover to white nationalists and neo-Nazis, nation, if not world-wide.

Keegan Hankes, interim research director at the Southern Poverty Law Center, said in a post-sentencing statement, that Fields was "a remorseless killer and a domestic terrorist" who "helped define one of the many flashpoints of violent white supremacy in the Trump era."

This for sure is justice for today, and hopefully will provide some closure to the victims and their loved ones, as well as a horrified nation, and hopefully will serve as a warning to those who continue to pursue the path of racial hatred. But indeed far, far more needs to be done to combat the surge of the facistic right, and to ensure love conquers hate.

Follow Polerium on Facebook and @polerium on Twitter for the hottest takes on US, UK, and global news, politics & current events.