Cenk Uygur is Running for Congress
Cenk Uygur, founder of The Young Turks news network, and progressive firebrand has just confirmed rumours that he is running for Congress in 2020. And I'm proud to endorse him. Check out our article for a first look at him and his candidacy.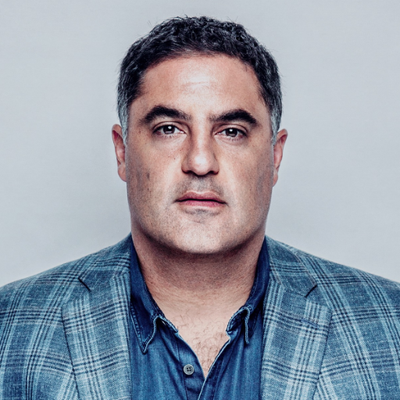 Cenk Uygur, founder and host of The Young Turks online progressive news network, has just announced that he is running for Congress in 2020.‌‌‌‌
Entering the Democratic primary to represent CA's 25th district, recently vacated by Katie Hill who is resigning from Congress due to a horrifically vicious and vile revenge porn scandal engineered by her ex-husband, and frankly enabled by the establishment Democrats.
Rumours began circulating yesterday that Cenk would run when a copy of the candidate filing records made its way online; the likely news quickly spread like wildfire around the internet, and Cenk confirmed it tonight, live on TYT, during an interview (as a guest this time) with co-host Ana Kasparian.‌‌‌‌
Cenk gave one hell of a fiery opening salvo to kick off the race - who would expect anything less from the veteran progressive broadcaster?
People in the progressive sphere have known Cenk's politics for years, so it's likely any TYT audience member would be able to guess his platform accurately. But nonetheless, Cenk made a bold promise to fight for, among other things:‌‌‌‌
Women's Rights & Equality - including vowing to champion abortion rights,‌‌
Medicare for All
The Green New Deal
Gun Control‌‌
Raising the Minimum Wage to a Living Wage‌‌
To campaign for and lend a hand to other progressive candidates across the nation, once he's in office,‌‌‌‌
And first and foremost…‌‌‌‌To get Money Out Of Politics‌‌‌‌
Now, what's my assessment of this entrance to the race? Damn it I'm excited. Like a lot of people on the left (though not all), I've been a fan of TYT and Cenk's for years. I met him once a couple years ago (though I certainly don't know him since before or after that meeting), and I've long said he should run.‌‌‌‌
There's positives and negatives to this candidacy of course, like there is with every run. Let's assess them:‌‌‌‌
Cenk is a fighter like you've never seen in US politics in this lifetime. He will maul the Republicans. Tear them apart.
And absolutely the establishment Democrats, too. I don't just mean in the vote tallies, but on screen, publicly - and certainly loudly - Cenk will use his nearly two decades of experience as a political news show host to crush the Republicans, and the establishment Democrats, into dust. Slamming speech after speech, oration after oration, as a public leader of the left movement-at-large, and as a visible representative for his district, Cenk will be a figurehead that will certainly put Obama, Clinton, etc to shame.
He can absolutely rally the cause like no other politician. He's got guts. And politically speaking, he'll rip the GOP/corrupt Dems' guts right out in public.
He's extremely hard working and dedicated to the cause, and will not give up on championing the progressive movement.‌‌‌‌
His heart is indeed deeply committed, and he has so much passion for the cause. If you've watched TYT for years like I have, you know who Cenk is. And you know that - not just metaphorically but literally - he has been a founder of the modern progressive movement in America. Nearly 20 years ago, he created and since has been the CEO and lead anchor of The Young Turks, which has long been the largest online news network in the world; a progressive hub and home of many now far-leftists' first steps into politics. Cenk also founded WolfPAC, a leading bipartisan, national group composed of ordinary volunteers that's working - with impressive success - to get all private money out of politics.‌‌‌‌
He co-founded the Justice Democrats - an organisation that finds and helps nurture Democratic candidates that run on a strong progressive platform, with taking absolutely no private money to fund their campaigns being atop the list. Their current incumbent members include representatives: Raul Grijalva, Ro Khanna, Rashida Tlaib, and Alexandria Ocasio-Cortez.‌‌‌‌‌ Ro Khanna being his first congressional supporter in this race.
He's been a long time backer of Bernie Sanders, endorsing him in both 2016 and now in 2020, but giving him and his movement the air time, the credibility, and the exposure years before.‌‌‌‌
If you haven't seen him on screen, then check out just some of any of his footage from over the years. You'll quickly see that Cenk absolutely believes in making America and the world a better place for ordinary people, for everyone, and has worked hard to do so for two decades - he's already been a passionate leader in getting money out of politics, on electing progressive leaders, and in many of the other causes he cares about. He's got solid policies, he has an expert knowledge of politics and of strategy in today's political sphere. He knows how to win victory for the people's agenda.
He loathes corruption and has a very solid plan to fight it, and he detests the obstruction and corruption of establishment Democrats as much as that of the Republicans. He's been railing against both for years and has been fighting against both fiercely. He'll do so on steroids in Congress. Both sides across the stagnant divide should be terrified of a Representative Uygur.‌‌‌‌
Ok, so that's the good. ‌‌‌‌But what's the bad?‌‌‌‌‌
Many in the leftist movement, including myself, will say rightly that Cenk isn't left enough - hold.
That's true in the context of the most energetic parts of the left movement at large - i.e., if you polled all the young people online who are part of the progressive movement and beyond, and asked them "if you could have any politician with any set of qualities what would they be like?" would Cenk be as left as the result?
No - but no one on the movement right now would be. Not Elizabeth Warren, not AOC, not even Bernie Sanders. We're way lefter.‌‌
And Cenk would admit himself, he's not quite as left as Bernie - but actually, dang it he's pretty close. Really don't get me wrong on this - Cenk isn't a full blown socialist, but he's an absolute progressive champion, and is certainly well within the court of those politicians I mentioned - the AOCs, the Bernie Sanders, etc. He helped them, tremendously so in fact, to get them elected and/or to build their movements. He might not be a socialist, but he is a strong progressive. He would be a completely fitting member of any of their teams.‌‌‌‌
So, why the hell did I bother bringing up him not being as left as some people want, but then say that he's in good stead? Because I worry that a lot of people in the left will dismiss entirely him for  not being left enough, and may even become cynically opposed his run. ‌‌‌‌Now, after all that stuff I've written about Cenk above, if you're new to all this you might be confused as to what I'm on about - 'he's helped build the left online, and you're saying people are gonna turn on him for it?' Kinda, yeah. The vast majority of the real leftists started their political journeys as Berniecrats, but (whilst they still largely support the Bernie movement) they've grown a lot since then. They demand much more of their representatives, and of the system, in terms of a full left agenda; and they're right to. I'm absolutely one of them.‌‌‌‌
However, people like Cenk, people like AOC and Bernie - they represent a fundamental difference to what you've seen in American politics before. I want all of them to be more left, but this isn't a Hillary Clinton lesser of two evils thing. Electing a Cenk, or more AOCs, more Ro Khannas, more Tlaibs etc, puts in a stock of leaders that policy-wise (and in otherways) gives you something that changes the system. This is not a crop of Democrats you've ever seen before.‌‌‌‌
The difference on the left-o-meter in voting for these people vs the traditional Democrats is like getting a good, solid car to race you through the desert vs sticking with the only other option there's ever been - hobbling on foot. Sure, you'd want and absolutely deserve a rocket-fast through-and-through sports model, but this option is great, and fundamentally changes the game, and gets you far towards where you need to be.
And besides raw-leftism alone, all these mentioned politicians (and there are a small few others of course, too), not just Cenk, absolutely max-out on the other core requirements for being great leaders: they completely care about the people not private, super rich backers, and damn it they thirst and will fight for change. You're getting honesty with these people. You're getting true compassion. You're getting real representation. It's absolutely worth laying the foundation of the future down with this generation of leaders as the first stones, because their resolve to help and to listen and to fight will set the way going forward. Their resolution is set in stone, and establishment Democrats are only built to crumble.
‌‌Yes then I want Cenk (and everyone) to be more left, but my notation of all this as a problem is that I'm worried the modern-left community won't be quite as responsive (at least positively) as people think, and that that underestimate by Team Uygur could hurt the 25th district's chances of beating a Republican for it. This is a slice of a bigger problem in left politics-and-organisation in general right now, and deserves much further address, but to the left movement I say please, not just for Cenk's candidacy, but for all the progressive politicians and candidates out there, please evaluate them thoroughly, and demand highly of them, but with that view of the complete list of what they're each offering, and the significance of what they bring. To Cenk's campaign, I say don't underestimate this justified hunger and often fervent demands for an even more radical model of leader. Indeed, plan for it. Embrace it.‌‌‌‌
The next key point to address is Cenk's past as a Republican. Indeed, when Cenk was growing up, he considered himself a liberal Republican, and then after university, he realised who the GOP really were and who he was, and ran away from his old ways without looking back. Save to apologise for some aspects of it, and to right wrongs. ‌‌‌‌That's exactly what he again did when Ana asked him about a couple of important issues that have been the biggest black spots on his past. ‌‌‌‌When Cenk was in university, he wrote a couple of terrible things. Firstly that he didn't believe the Turkish instigated Armenian Genocide, from the openings of the last century, had happened.  In his Republican days, he wrote that the atrocity didn't take place, and argued some evidence points as to why he thought that was. Cenk has since recounted and apologised for that many, many times over the years. He states that as a Turkish-American (having moved to America with his family, when he was 8), in the days long before the internet, virtually all he knew of the event growing up was the propaganda instilled/lack of any credible education on it, from his youth in Turkey. He explained that when he found out the truth, he absolutely changed his opinion, and has been very vocal, again and again about his reformed view and his adamant belief that it of course did happen.‌‌‌‌
Ana Kasparian herself is an Aremenian-American, and has herself often had to mention how she frequently gets messages from the Armenian community, or from the public in general accusing her of being disloyal to the Aremenian community, for being friends and colleagues with an apparent genocide denier. She has had to publicly explain all those times that Cenk fully recounted and absolutely refuted his own writings years and years ago when he learned the truth, that he has long believed the complete opposite, and has apologised profusely for his original writings.‌‌‌‌
Interestingly, I myself happened to hear in person Cenk sincerely restate his apologies and his explanation, and reinforce his recant of his old writing again, to someone who asked him about it two years ago, after a public event.‌‌‌‌
The second important issue on Cenk's record are pieces he wrote in university containing offensive language toward women. In satirical posts about himself, he joked that the genes of women must be 'inferior' for not wanting to hook up with him. In another piece, titled The Rules of Dating, he wrote grossly about the different speeds at which different levels of intimacy in sex should occur. He spoke in another post about in a vulgar fashion about all the women he had made out with and sexually ineracted with at a Mardi Gras festival.‌‌‌‌
Cenk has apologised and explained many times since then how he has long been horrified at his past writings, and says that he hadn't yet figured out who he was, still thinking he was a right-winger, and being caught up in the toxic naivety of thinking you have to be edgy to fit in in that sphere. He says he refutes absolutely any misogynistic mode of thinking, and cites who he has been for years since as evidence that he changed.‌‌‌‌
You can find out more about those writings and his responses, here.
‌‌My personal feelings on this matter is that of course, undoubtedly, those writings and the structures that encourage them are completely abhorrent. Anyone who believes that stuff deserves instant disqualification, and intervention. Further, it's not for me, as someone not in the affected communities, to say outright whether Cenk should be forgiven.‌‌‌‌
What I do think however is that absolutely Cenk is revulsed as to who he was those decades ago to be in the mind to write such, and that he's definitely a changed person. A person that has absolutely valued and pushed for the right side of all those issues, and believes in them. That I think is something I and one can see just as an observed thing for years. Whilst I certainly think that accepting someone's wholehearted and meaningful attempt at an ark of redemption should be recognised, it's absolutely not up to me at all to say whether someone who has/would be affected by past behaviours like that, should forgive the person responsible for it. ‌‌‌‌
Indeed Cenk said in his interview with Ana when she questioned him on the matter, that whilst he stands by his 20 years of solid evidence and public work to show that he really has changed and already fights for racial and feminist causes, he absolutely accepts and completely understands that if you still don't believe he's earned your support because of these issues, then for sure you shouldn't give it to him.‌‌‌‌
So that's a brief, introductory look at Cenk Uygur's run for Congress, in California's 25th district. There are things in either column, but I trust on who he is and has been for a long time. Ultimately, I'm extremely excited for the chance here for Cenk to take what he has been doing on the show, and on the frontlines of the progressive movement for 20 years, and unleash it as a CA-25th Representative.‌‌‌‌
I'm proud to endorse Cenk Uygur for Congress.‌‌‌‌
You can go to Cenk2020.com to find out more about him and his platform, how to donate and how to volunteer.
Of course, check out his show The Young Turks on YouTube to see his progressive history over the years, as well as read a wide range of other commentary and opinion on him and this run, to make your own firm decision.‌‌
If you want my advice, though - should you support Cenk in this race? "Of couuuuurse!"‌‌‌‌
#Cenk2020‌‌