9/11: US prepares for solemn anniversary of that time Ted Cruz tweeted Incest Porn
Today, once again, America prepares for the solemn anniversary of one of the most heinous and terrifying parts of its history. A day that will live in infamy, and for many, in therapy - that time on 9/11-2017 that Ted Cruz liked a tweet about incest porn.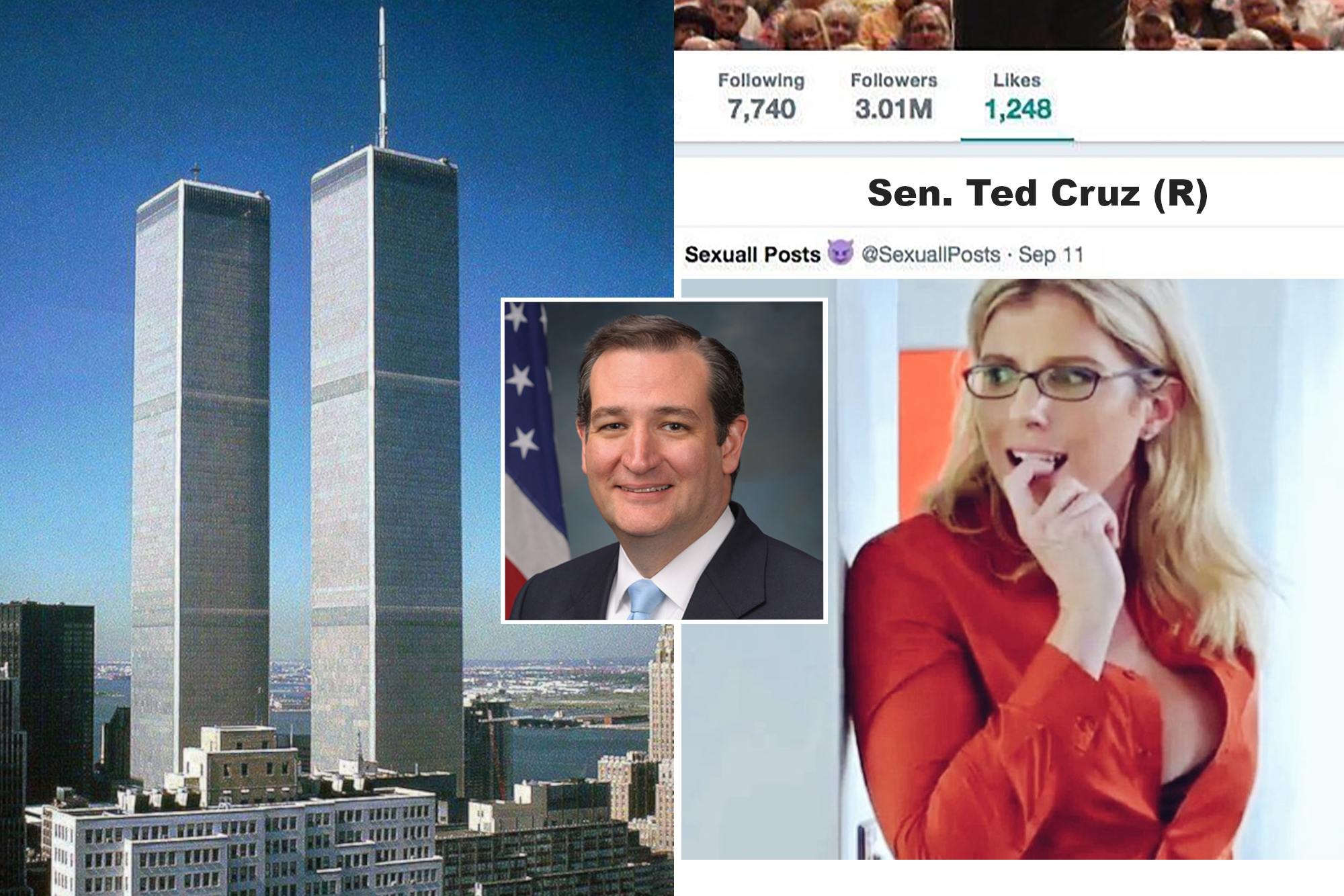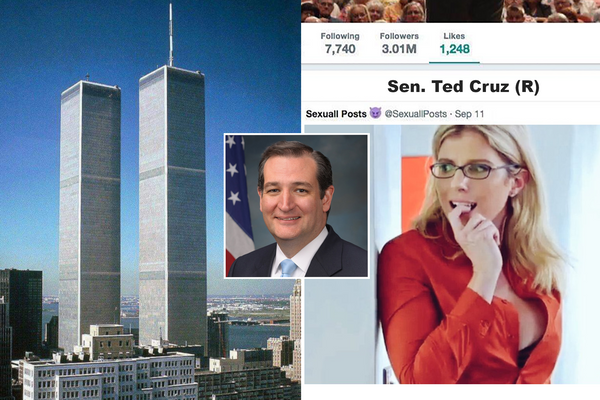 Today, once again, America prepares for the solemn anniversary of one of the most heinous and terrifying parts of its history. A day that will live in infamy, and for many, in therapy - that time on 9/11-2017, that we peered into the sexual desires of Ted Cruz, as he liked a tweet about incest porn.
---
On what should have been a time of great remembrance for a real solemn tragedy that happened on this day, many years ago, the country was given a frightening glimpse into one of its most hated lizard people.
---
Most Americans, hell, most people around the world, can still remember where they were that cold day, when they heard the news. Many kneeling over a bucket. Contemplating how whatever they knew before about the world had changed. Any semblance of light and goodness in life was now hurling up through their mouth and nostrils, as they were now forced to consider the dark possibility of a 'Ted Cruz sex life', and that it's as taboo and kinky as one can imagine.

"This day is hard enough, already. Why does god hate us?" - reply-tweeted one crestfallen, online witness.

"We've known for years that this dude murdered people - hacked at them with blades, kidnapped, tortured them, and revelled in their horror, all back when he was the Zodiac Killer. And we had to deal with it," said one still-scarred constituent, "But knowing that Ted Cruz has a sex life? Now that's gross."
When pressing the voter upon the fact that Ted Cruz is a husband and father, and whether that availed him to the fact that Cruz had previously engaged in * gulps * relations, he replied "I thought theys were Trump's wife & kids? After all, Trump cucked him!"
"I remember thinking at the time, I was just tryna remember and pay homage to those poor, innocent people from the real 9/11, and all those who fell in its wake", he went on. "Now I gotta think about this shit, too?"

Cruz at the time, of course, blamed the unfortunate tweet on an aide at his office, claiming multiple assistants have access to his accounts, and that swift disciplinary action at the time would be taken.
"It was not me, and it's not going to happen again. This lapse in duty is unacceptable. We run a tight-knit operation in our office based on trust, like a family. And believe me, there's gonna be hell to pay when Daddy get-, I mean when I get back to D.C." the senator said in a statement to press, seen thumbing behind his back what appeared to be a spare leather belt. "I promise, by the time we've organised our next illegal, reactionary, oil-based Middle Eastern war, I'll have sorted it."

When described the details of the video by reporters, and asked if this would damage his standing among Evangelicals, Cruz replied "I'm sporting a big tent. I mean, I'm supporting a big tent, for our party. We cater to a range of Americans - however, this type of video goes against our core values. Whoever liked the tweet was very, very naughty, and I will see to it personally that they get their punishment for being so bad."
Visibly frustrated and heated by the stress of it all, Cruz said he was going back inside to take a cold shower.
Far from a total faux-pas though, many political pundits are claiming the stunt was a purposeful political manoeuvre, to strengthen his standing among many in the base of his party. Cruz being a Southern politician, after all.

Rumours in fact had it that a newly-energised Alabama was suddenly considering seceding once again from the Union, and nominating Texas Ted as its new president.

Former President George Bush also reached out to the senator with a warm note of solidarity, saying that thanks to Cruz, his was no longer the most embarrassing & hypocritical mistake carried out by a Texas Republican on 9/11.
Further, many of Cruz' defenders were actually some of his own most usually ardent adversaries. With many leftists and independents pointing out that:
And that if only Republicans focused on accepting & embracing theirs and others' kinks, preferences and ways of life 🙌 instead of shaming people, as well as seeking to constantly satisfy their greed & hunger for human misery, then the world would be a much better place.
Still, one disgruntled staffer leaked that other terms in Cruz's gross search history include "Beta-Cucks Simps to Wife Insulter", "Big Black Caucus", and "Old Man gets fucked by entire electorate in November".

After being briefed of the incident, one that could have been a very embarrassing issue for his party, President Trump immediately left a 9/11 memorial gathering, where he was encouraging national thankfulness that the one silver lining of the attacks at the time were that it helped him make a killing in the real-estate market. Upon gathering with advisers to form a response, an alarmed Trump immediately asked "it's not one of my videos of that Ivanka lookalike I hired, is it?"